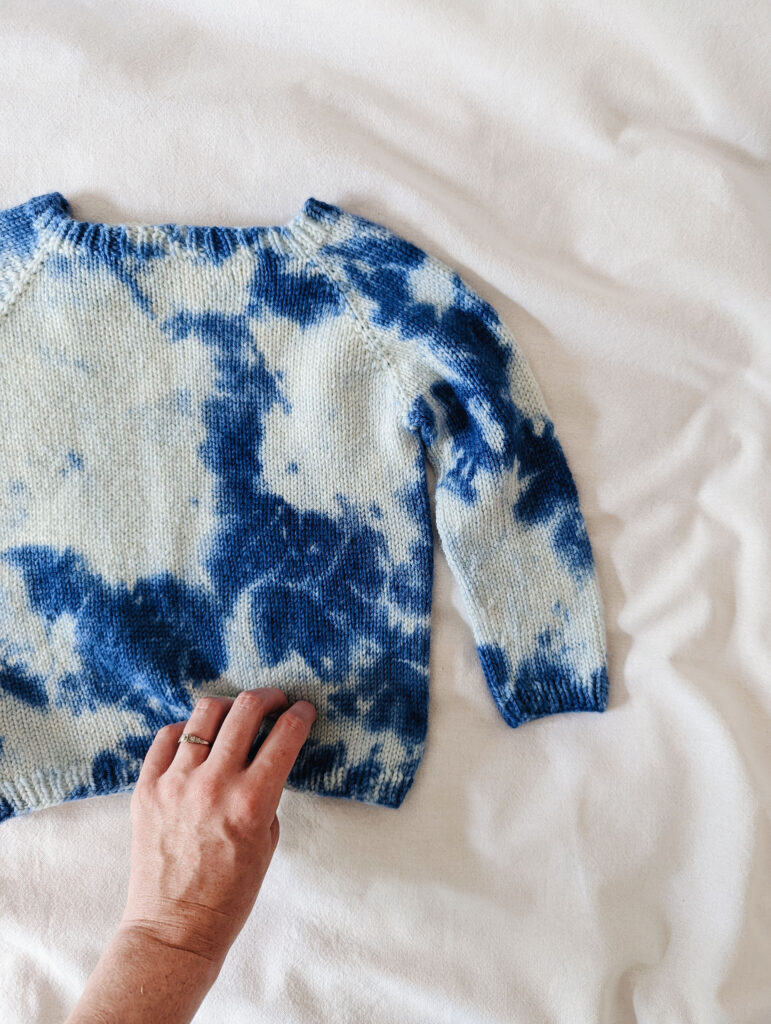 Have you ever wondered if you can tie-dye your knits or perhaps how to tie-dye your knitwear? Well you absolutely can and it's really easy to do. Tie-dying a knitted sweater (or any other item of knitted clothing) is one of the easiest and quickest ways to make a simple knit into something fun and unique. Here's my guide and top tips for tie-dying your knits.
Tie-dye supplies
You will need:
A knitted item of clothing. The knit will need to be made from a natural material such as wool (superwash wool can be tie-dyed), cotton or bamboo. My photographed sweater is made from Chester Wool Company Ultra DK. The pattern from my sweater is my Casper Sweater without any of the halloween decorations.
Tie-dye kit. I used the Kumber tie-dye kit from Amazon. Many kits come with items below so check before you buy more than you need.
Elastic bands
Plastic gloves
Plastic bag
Protective material for any work surfaces you are using such as plastic bags or sheeting
How to tie-dye your knitwear instructions
Start by preparing your work area. You will want to have all the items to hand and make sure that surfaces are protected from getting any dye on them. I used a plastic bag.
Make your knit damp. Many tie-dye kits will say that you don't need to pre soak your clothing but with wool I found it's best to. This will allow the dye to saturate the fabric easier. You don't want your knit to be dripping wet.
Tie up your knit with the elastic bands. The way you scrunch and secure your knit will impact the outcome of your dying. I wanted a random dye pattern across the sweater so I scrunched my knit up and secured tightly with the elastic bands. But you could create a spiral pattern, the traditional bullseye or sunburst patterns and even stripes. There are lots of tutorials on ways to fold and secure your clothing for tie dying like this video.
Add water to the dyes following the kit's instructions.
Apply the dye!
Once you've finished applying the dye to your knit, pop it in a plastic bag and leave for around 6-8 hours. Leaving the dye to soak in will give you nice vibrant colours.
Take your knit out of the bag and remove all the elastic bands to reveal your finished tie-dye pattern.
Rinse out the excess dye in cool water.
Wash your project as per the washing instructions for your yarn. This could mean a handwash soak for any wool items.
Block your project and let it dry.
Remember what makes tie-dying so much fun is just how unpredictable the end result is! I hope you have fun experimenting with tie-dying your knitwear.